Click here for the Discussion thread
October
Mauritania 2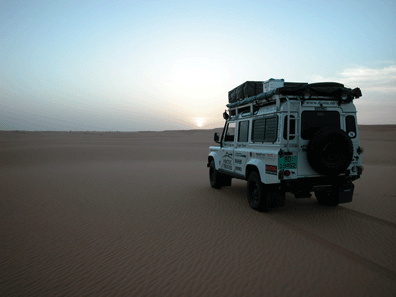 Endless, beautiful Mauritanian desert near Chinguetti.


Some last grocery shopping and we were off again, heading north, north/east, towards Atar and Chinguetti. We had heard of an oasis 50 km before Atar, that was supposedly worth a visit so we took a detour and a rough 12 km piste (almost an hour to drive!) in to Tergit to see what it was like. As we didn't know much about it we thought we would just look around and leave. We parked the car and went on foot 300 meters up the green valley to the oasis. In the oasis it was at least 10 degrees cooler and it turned out that you can spend the night there under beduin tents if you want.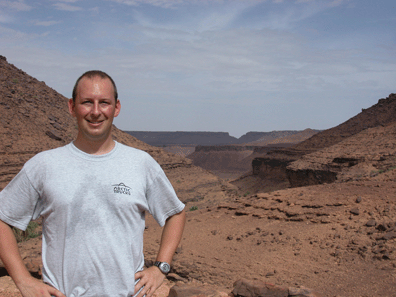 Getting a bit sweaty trekking around near Tergit.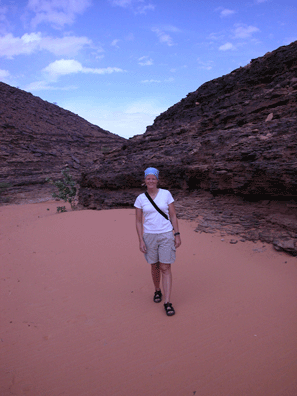 The oasis starts just around the corner behind AC.

We decided to stay for a night and had couscous for dinner that they prepare for you if you want. Unfortunately I had an upset stomach so I couldn't hold on to if for too long!! And I was very happy they had OK (although arabic) toilet facilities! During the evening we were hit by a thunderstorm, so we laid under our beduin tent listening to the rain and the thunder. It was a fantastic place and the next morning we walked up the valley and viewed the oasis and the surroundings. Leaving Tergit we headed for Atar and Chinguetti. The piste form Atar to Chinguetti is very good. The "new pass" is now covered in asfalt, and is a relatively easy, although very steep ride (10%).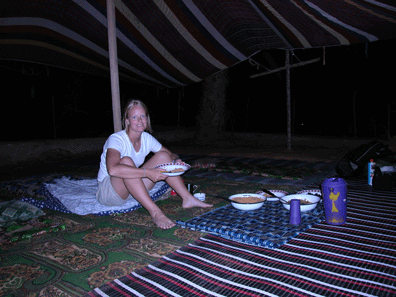 At the dinner table

In Chinguetti we stayed at the Auberge Abweir. This place was relatively new and had the best bathrooms ever! Even better than Europe (although still arabic toilets...)! We stayed in a beduin tent again and had dinner with Max, a french man who has travelled around all of west africa for decades both working and on holidays. He was driving down to Senegal to sell a car. As he stated; a "working vacation". He had another french man with him at the moment who is hitchhiking for 3 months.

Couscous Mauritania was on the menu and is made out of Millet, unlike the type from Morocco, which is made from wheat. It would have been very good if it hadn't been for all the sand in it! That's the desert for you! The sand gets into everything. We arranged with the owner to go on a camel ride the following day. At 7 o'clock our camelguide, Elouen, was ready to take us out into the dunes on two camels. Off we went, the three of us and the camels. At first we decided to walk (to get some excercice) but walking in the sand can be pretty exhausting, so I got on my camel. Erik wanted to walk a little further. High up on the camel you get a great view of the surroundings and there was sanddunes as far as you could see. Some red tinted and some whitish.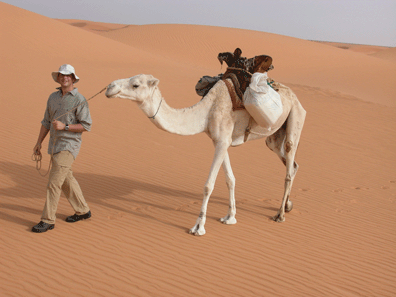 I traded the car in for this brand new turbo-injection model

The sand dunes are apperently a problem for Chinguetti, as the dunes are taking over the small town. We where told that the town might be totally covered in a couple of decades. After about 3 hours (Erik walked the whole time) we made camp and Elouen made lunch; bread baked in the sand and camelstew from dried camel meat. It all tasted very good after the walk/ride. And we had mint tea about 6 times. The tea is so sweet and after a while you sort of get used to it and it now tastes actually quite good. In the afternoon we headed for home and we both got on our camels.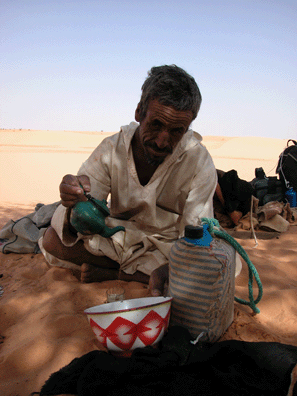 Elouen making tea

Elouen entertained us singing Mauritanian folkmusic. He was very good and it was a nice touch that made it even more enjoyable. Back in camp we had a good night sleep and were off the next day. We had a couple of long days ahead, heading for Mali.We drove back to Nouakchott and then to Timbedgha in 2 1/2 days. Driving down was very facinating, but a long drive. Around 10 hours per day. The scenery is wonderful. It gets greener and some places looks like you are in Asia because of recent rainfalls.

Cows and goats are everywhere and you see the dried out carcasses of roadkilled cows every 500 meters! We had actually planned to go to Nema and from there to Mali, but we were warned by the military and police along the road not to go there because of Tuareg rebels. They advised us to cut down towards Mali from Timbedgha instead. I must say that Tibmedgha was the worst village we have been in. The children vere extremely harrasing and even older people would not leave us alone. Children were hanging and banging on my door, wanting our little Tiko! Erik was in the Duane (customs) to get the Carnet stamped and had a quite difficult time in there. To stamp the Carnet, the corrupt bastard wanted 20 Euro! Erik asked him what for, and was told that since it was Saterday, it was his day off. Erik then pointed out that he was in his office working, and that the customs office obviously was opened, thus it shouldn't cost us anything for him to do his job... It ended up with us paying 5 Euro and 1 dollar bill. It was the first time we had to pay out to a corrupt official. May he rot in hell!!! After a difficult time finding the right piste out of town that would lead us across the border, we started on the long and dusty cross country drive over to Nara in Mali. It was about 170 km that took us almost 10 hours. Forget about trying that route with a normal car... The car was covered in mud and dust when we arrived, and thankfully, the customs and police in Nara where very proffesional.

At the moment we are in Bamako, and will write soon about our Mali adventures!