Click here for the Discussion thread
Index

Part 1

Introduction

Planning

Equipment

Route map and country information

Sponsors

Links

Off-road driving in Norway

Trip to Bergen

June in Norway

To the North Cape of Norway and Europe

Lofoten, Norway

August in Norway

France, September

France and Spain
Part 2

Morocco & Africa, September

Morocco & Mauritania

Mali

Burkini Faso





To be continued

Back to Part 1
September
Morocco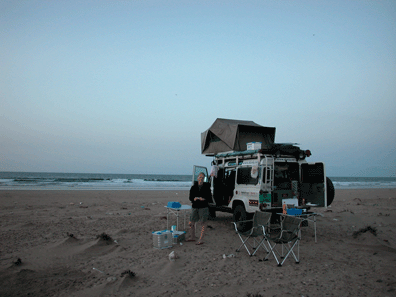 Camping on the beach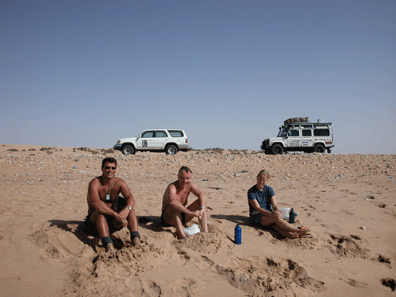 Lunch with Oistein and Peder

Heading down south we finally reached Algeciras where we planned to take the ferry across to Ceuta. Getting tickets in one of the ticket booths along the road we were able to drive right into the ferry with no hassles. The crossing took about an hour and was quite pleasent. Getting off, we filled our tanks with diesel (which we realised later was really bad diesel!! - an Elf station right after the ferry terminal) and headed towards Morocco. At the border, it was literally like stepping into another world. There were sudenly people everywere, all yelling or shouting. We followed the que to the border and went from there to the customs and registrations area. Things went actually very smoothly with a help from a policeman who pointed Erik to the correct windows, as there are serveral. The thing is you have to get to the second one first and then back to the first window and then on to the third etc, etc. All in all, the crossing took us about half an hour! It was then beginning to get late and we headed south and found a campsite in Martil. And what a first night in Morocco - the camp was full of garbadge and the toilets were for the whole town. But with no other alternative we settled down. Erik got to know the bar owner and we were treated for some mint tea. In retrospect, maybe this is what gave Erik a bad case of longterm runny bottom!


Hassan II and Erik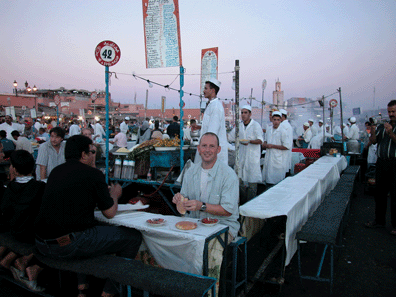 Dinner at Djenna el Fna

Driving through the Rif Mountains was a really nice drive. People selling onions every 100 meters and donkeys everywhere, either fullpacked with all sorts of things or with their legs tied together so that they don't run away. There is garbage everywhere and it seems, as someone else wrote, like they think that Allah is going to remove the garbage for them! So they leave it everywhere. We are not used to the Moroccoen way, yet we had a little trouble finding the camp in Fez. After driving around Fez for some time, we were guided by a moped guy and his friend to the campsite. In return, they wanted us to use the moped guys brother as a guide in the Medina and take us to another cousins restaurant that night. We went along with the guiding of the Medina and he was to pick us up at 09:30 am the next morning. But the man never showed up! So after 45 minutes we took a "petit taxi" and hired Jamal, an official guide from the tourist office. He showed us the Medina, which was fabulous. We saw all the craftmens work and it really is amazing - all from weaving to tanneries. In the tanneries they dye the leather and the place smells like piss - and that's what's really used to! The leather is coloured in animal urin! We got a guy in there to tell us all about it and was very dissapointed when we didn't buy anything later. Lunch in the Medina and the famous tagine was tried out and it was delicious.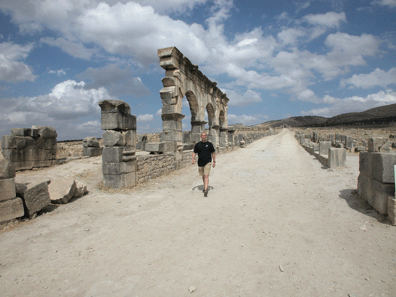 Volubilis

Staying in Fez for two days we drove to see Volubilis - a very well preserved Roman settelment. It was very interesting walking around in the ruins, seeing so well their former way of living. Next we went to Rabat to get our visa for Mauritania. Unfortunately the Consulate General had just moved to Casablanca that very weekend. What a bummer! In addition we stayed at a campsite south of the city which had a tivoli next to it. So we had tivoli music on one side and the mosque with its middle of the night wake up calls on the other!

Getting our visa in Casablanca was very easy. We dropped by the Embassey at nine o'clock in the morning and picked them up at three pm. It costs 200 dh for the both of us. In the meantime we went to see the Hassan II Mosque which is open for non muslims - at the price of 200 dh for a guided tour! Far too expensive..... The Mosque was finished in 1994 and was built by 10.000 workers working 24/7 for 7 years. Its extravagance is almost a little too much when you see that there are so many other things in Morocco that need to be taken care of.

Leaving Casablanca we drove down to Marakech. We stayed at a nice and quiet campsite 12 km out of town. There is unfortunately nothing closer, but it's a quick taxi ride into town. The Medina and the famous Djenna el Fna square was a must and it surely lived up to it's expectations. The square were filled with snakecharmers, men with trained monkeys (the monkies are kept in tiny cages when not working and they are obviously not treated very well. We therefor avoided the monkey men and hope others will too. Perhaps if people don't pay for this cruel attraction, the business will die out), tables with real teeth, spices etc, etc. In the evening all the foodstalls are set up and the atomsphere is unique. The air is filled with spices and barbeque smells. First Erik tried out the spicy snails, I had one, and it was actually very good. Later we tried the shish-kabob and sausages. Yummy!

Trawling the Medina in Marakech was a very easy thing to do on your own compared to Fez, where there streets are so narrow and winding that you will get lost in just a few minutes without a guide. I did, of course, get Henna on my hand, more or less unwillingly. Inside the Medina I was offered it for 5 dh. At the square, I was being hassled by a lady wanting to put Henna on my hand. I wasn't interested, but before I knew it, she had taken my hand in her own and began drawing Henna designs on it. It happened so quickly that I was a bit stunned and before I knew it she had completed her task and wanted 100 dh!! For something that I didn't even ask for! We immediately refused and said that it was ludicrious to pay for something we didn't ask for not to mention that it cost maximum 5 dh anywhere else in the Medina. Erik offered them 2 dh, making it clear that if they didn't want it, that they could f....off! They grabbed it. Then they were promptly chased away by the police. Obviously they were known hustlers. So there, I was really hustled! And with this sticky, messy mudpaint on my hand, we went over to a cafè to wash it off. We stayed in Marakech for two days then headed off south by the coast.

Driving south was pretty uneventful exept for a nice night of camping on the beach by ourselves. The beach was totally deserted, but unfourtunatly, the morocan habit of garbege everywere applied to here too. Plastic bottles washes up on the shore, as far as the eye could see... Eventually, we reached the "border" into Western Sahara. It's part of Morocco, but the police and military checkpoints are all over the place. 2 of them where actually only 300 meters away from each other and within shouting distance... Where is the logic? When we got to Laayoune, a United Nations car stopped next to us, and it turned out to be a Norwegian named Oistein and a Swede named Peder. In the end we went to the beach with them and ate lunch together! Western Sahara is a vast area full of nothing! You drive for hours without seeing any change in scenery. It's like a big void. In a way it's kind of intersting travelling through lots of nothingness for hour after hour!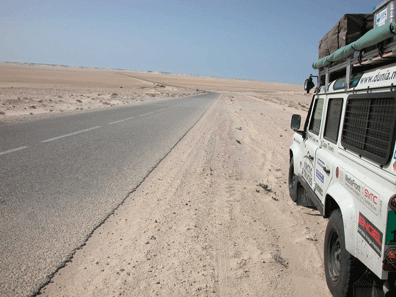 The never ending road through Western Sahara.

We finally arived in Dhakla, the southernmost town before the border. Here we have met a german couple, Nils and Angelika, who we will cross the border with tommorow and drive down to Noakchott with.

It'll be the first sandy part of our trip!