Posting Photos - Step by Step

Posting photos is much easier than it seems. First you must understand that you cannot post photos to NE.com directly from your computer. It's a two-step process. First the photo must be uploaded to a server on the web, then you link to your photo in your post on NE.com. It works like this. I'll use a series of screenshots from my computer to illustrate as I explain.

1. GETTING YOUR PHOTO TO A HOST ON THE WEB.

If you have your own server space, you can use it. Just use your chosen FTP (file transfer protocol) software to upload your photos to your server space.

If you don't have your own server space (most people don't), you will use one of many hosting services on the web. Photobucket.com is a very popular service, and I will use it as an example in this thread.

First establish an account with Photobucket (or whatever service you want to use). I use my own server space and don't have an account, but I will illustrate by using somebody else's publicly accessible account.

Once you establish an account, use the easy procedures of Photobucket (or your other service) to upload your photos to an album. Now understand that each uploaded photo is a separate file residing on the host, and each photo has its own separate URL (internet address).

You are ready for the second step: linking you photos to your NE.com post.





2. LINKING TO YOUR PHOTO THAT IS HOSTED ON THE WEB.

Whether starting a new thread or posting to somebody else's thread, you will be working in a "Post" box just like the one I am typing in now. The object is to retrieve your photo URL from Photobucket and link it to your post. Here's how.

Open your Photobucket album in a new window so you can go back and forth between your NE.com post and your Photobucket content.

Chose the photo you want to put in your post. You will have a screen that looks something like this screenshot.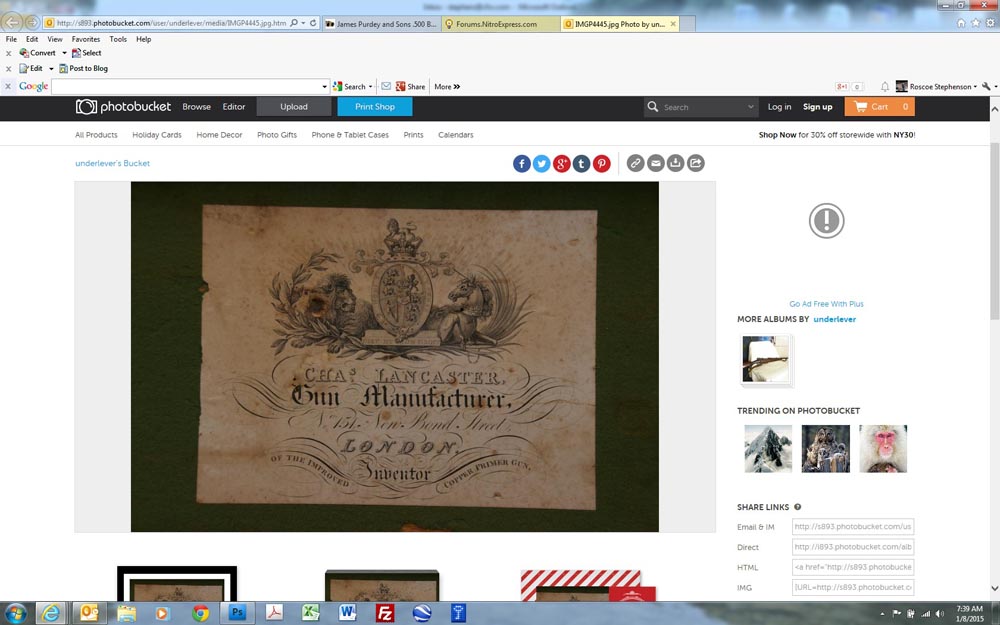 Notice there is an array of links at the bottom right of the photo under the heading, "SHARE LINKS". The link you are interested in is the one labeled "Direct" (big red arrow, below).








You want to copy that link. To do so, click on the text in the box beside the word "Direct". Your cursor will now be inside that box. Now double click on the same text. This will select, or highlight, all the text in that box. Now right click and select "Copy" from the drop-down menu.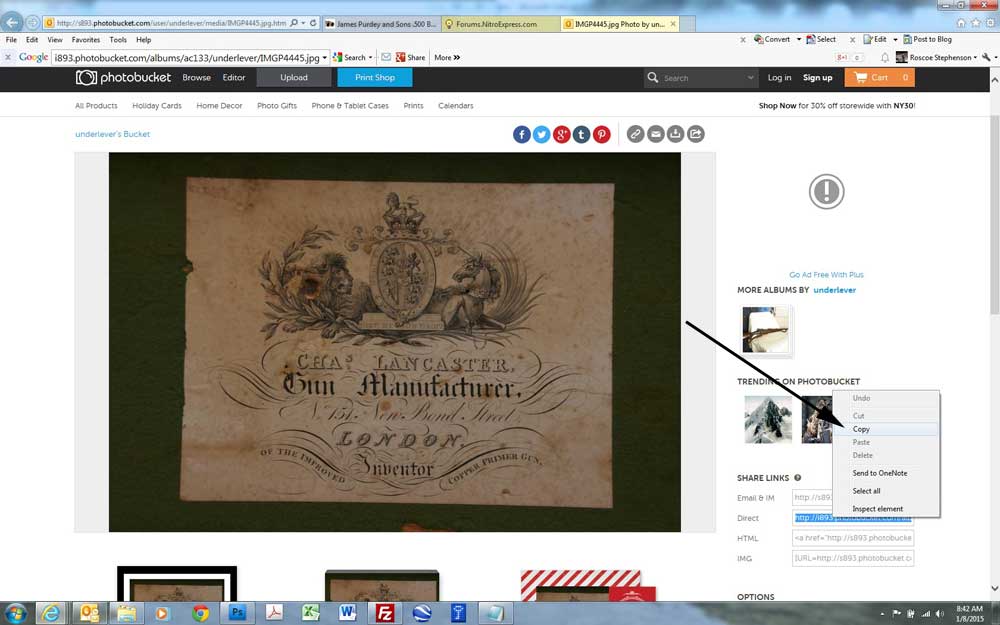 This copies the photo URL to the clipboard of your computer.

Now switch back to the window in NE.com where you are going to post your photo. You will have a screen with a "Post" box where you are entering text just like I am doing now. Here's a screenshot:








Notice my big black arrow pointing to the "Image" command button on the "Instant UBB Code" menu. Click on that button. The "Image dialog box" will appear and look something like this: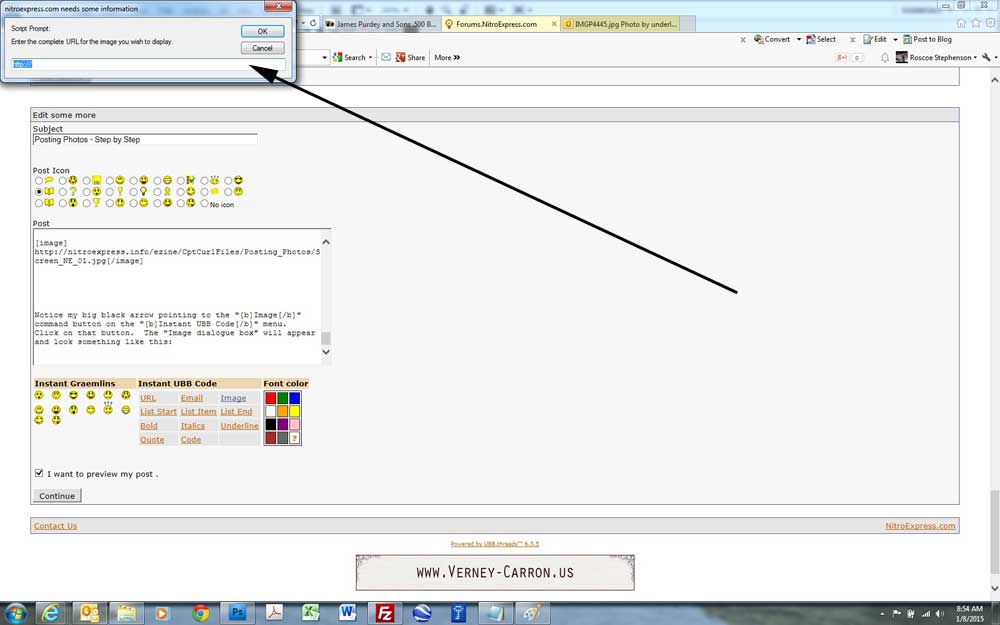 Your photo URL is going to go in this dialog box, indicated by my black arrow. The easiest way to get it there (assuming you have followed the previous steps) is to hold down your "Ctrl" key and tap "v". When you have pasted the URL in this box, it should look like this: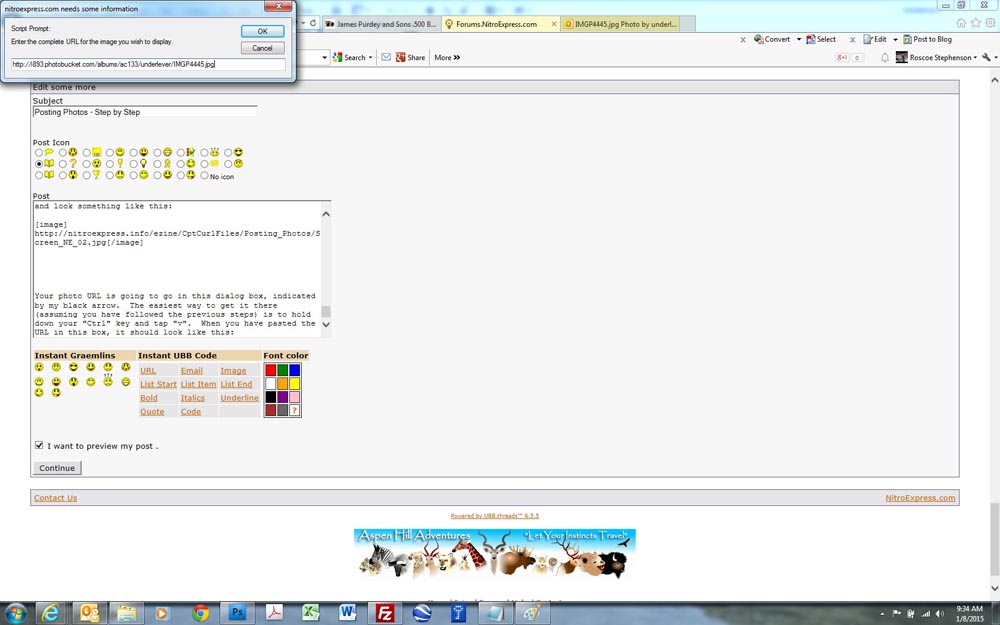 You then just click on "OK" and the link is inserted into your post.

One common error that I have made is to paste the URL into the dialog box without overwriting the prefix to the URL that automatically appears in the dialog box. I am referring to the prefix "http://" you see when the dialog box pops up. If you do that, your dialog box will look something like this: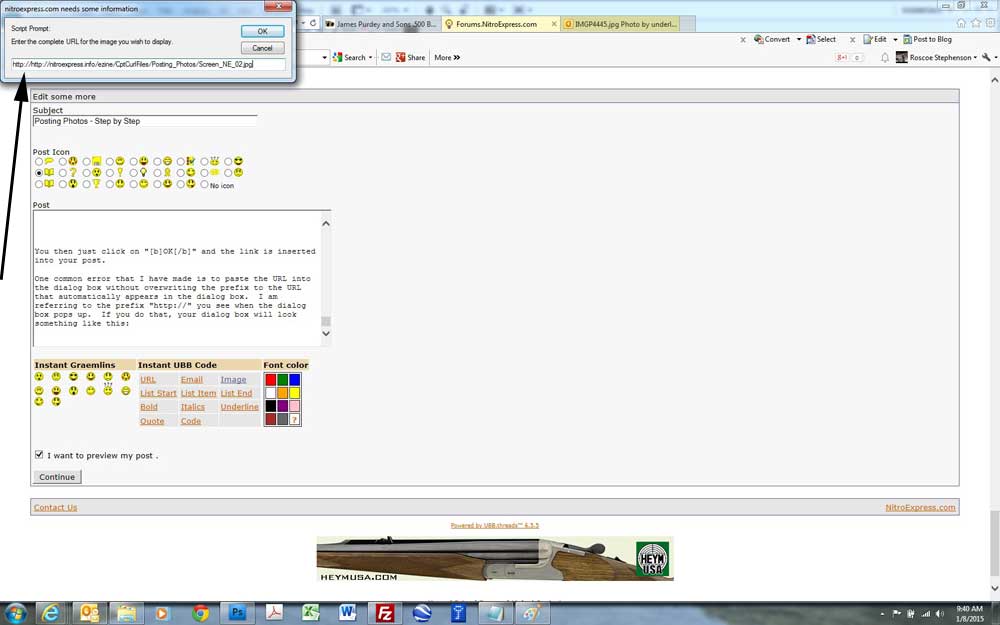 Notice that the prefix appears twice. This won't work. You need to have only one prefix. I'm sure there are other ways to mess this up, but you will work through those easily.

That's all there is to it! Enjoy posting your photos on NE.com.

Curl