Quote:

---


Congrats on the hirvi!!!



---


Thank you, thank you.

Quote:

---


What rifle is that?



---


As identified by 88MauSporter despite the smudgy picture - very well done!

- it's a Winchester model 1895.
The caliber is the venerable Finnish "Moose round" 8,2x53R, i.e. necked-up 7,62x53R "Russian" that uses the same bullets as the 8mm Mauser.
You may recall the discussion initiated by Lancaster "Win from Fin"




After the extensive custom work the barrel has been cut, the open sights renewed (Recknagel adjustable items), quick sling mounts have been fitted, the stock is re-done in laminate (plywood): it's longer, wider, has less drop and enjoys the benefit of a recoil pad; a Weaver rail for the use of red dot sight (DocterSight II, fitted on both photos) has been fitted utilizing the mount of the old rear sight, and the entire package has been made take-down.
I'm glad many of you noticed the rifle - on the leverguns.com forums the dog got most of the attention.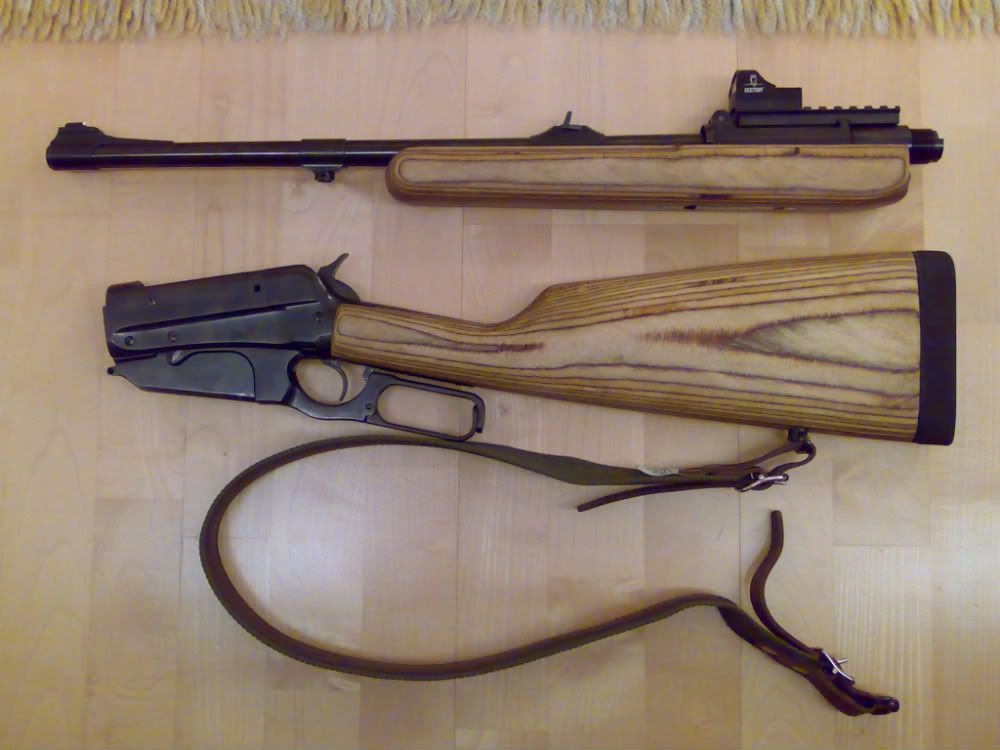 Quote:

---


What are you using for testing media?



---


I was planning on using wet newspapers. I'm mostly concerned that the bullets don't fragment too much, and that there is adequate penetration also when shooting from poor angles.
After the good test reports in Vapentidningen, I'm not entirely sure if more testing by me is needed besides finding an accurate load for my own gun.
The Nosler AB has only been in one of the tests, so that I'm curious about.

- Lars