Hunt Australia August 2007 Newsletter

Well it is that time of the year again - as our hunting season slowly draws to a close – to contact all of our good friends with news from the Outback – in the land 'Down Under'. 2007 has been another very successful season with all of our hunts in Australia and New Caledonia.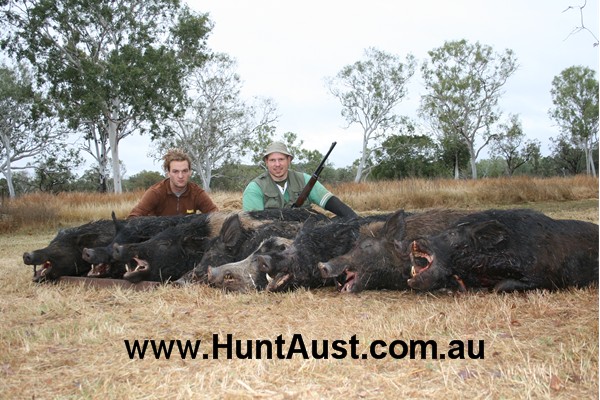 Dorisvale Boar Hunting

Wild boar hunting in Australia is a national pastime and there is no better location to hunt for truly huge trophy boars than on our 'unlimited' hunt at our Dorisvale, Northern Territory, camp. The 2007 season was once again an outstanding success with dozens of record-class boars taken and a few of the largest boars topping 300lb and ivory tusks measuring up to nine inches (24cm) in length.

As an example, in August three hunters from Spain claimed 31 trophies between them plus one trophy buffalo, taken with a compound bow, in a full weeks hunting. This is the kind of result that can be achieved there and we believe that there are few places in the world where you could harvest so many big boars for relatively low cost. Many hunters also take this five day hunt as an add-on to other hunts and there are no trophy fees for boars at this location, if you book a full trophy hunt.

In 2008 we will be build a new camp with other added facilites at Dorisvale, which will make this hunt all the more comfortable. The hunting area will also expand next year by 100,000 acres (400 square kilometers), providing a completely new facet to this wilderness hunt. In addition some hunters who book into this camp will be allowed to take cow buffalo (in a limited herd reduction program) at a very reduced rate, plus trophy bulls for the standard trophy fee. Altogether these are very exciting prospects for this great hunting area.

Jan Aussem from Germany took this incredible line-up of big trophy boars, in a little over 2 days, with the assistance of Leith Graham at the Dorisvale camp.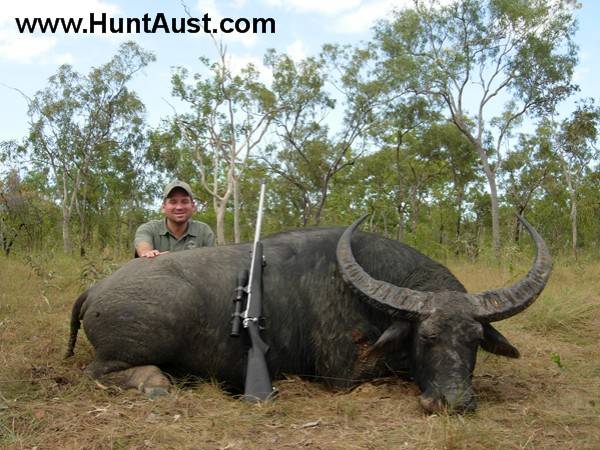 Gan Gan Asiatic Buffalo

The Gan Gan area (Arnhem Land - Northern Territory) once again proved why it is the premium Asiatic buffalo location in the world today. All of our clients have taken outstanding trophies, with the occasional 'thumper' thrown in amongst them. A few noteworthy trophies were the 108SCI bull taken by Allen Simpelaar in early August and another almost identical bull taken by Bob Adler later in that month. The largest to date however was a massive 112SCI bull taken in June by Randy Duncan, literally within yards of the Gan Gan camp,. You do have to be rather lucky to score these truly massive old bulls, they seem to just pop-up out of 'nowhere' at any time during the season. That IS wild and free hunting….

Already 2008 season is looking very full at Gan Gan camp, so if you are keen to sample the best wild-and-free wilderness Asiatic buffalo hunting – be sure to reserve your position very soon.

Greg Rodriguez cracked a jumbo buffalo bull on his June Gan Gan hunt.



New Deer Combo

Commencing 2008 season we will be offering a special 7-day wild-and-free combination hunt for Javan Rusa and Axis deer based in North Queensland (Australia). We have been hunting this great Axis deer herd for many years but just now we have gained access to this new Rusa herd with only 10 available tags for this season. A few heads were taken in 2007 that rocked the Australian record books and the guide reported that there were many others in this new area. If you are into the best truly wild-and-free deer hunting this could be the hunt for you.

The tropical resort city of Townsville is just a few hours drive from the hunting area so it would make a great holiday stop-over for the Great Barrier Reef. Hunts will run through late June and July and would combine well with a Gan Gan buffalo or other Northern Territory hunting at that time.



Ron Lazarus hunted this magnificent 38 ½ inch Javan Rusa stag in Queensland this season.

Image courtesy of guide Vince Ashe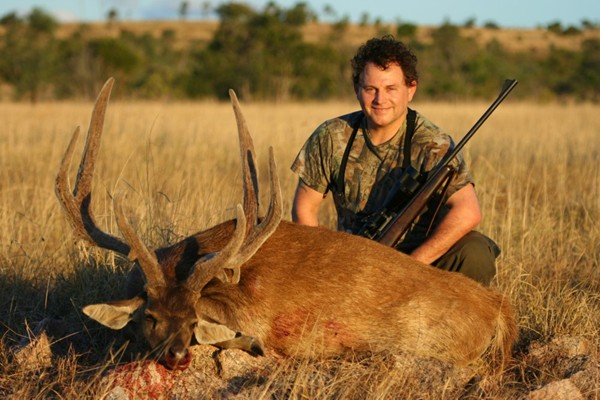 Camels – expressions of interest

Camels in Australia are big news. Australia has an estimated herd of 4-500,000 dromedary (one-humped) camels, roaming the arid interior. This is more camels than are found in the whole rest of the world together. In some places in the desert the camels become a real problem, especially when they come into villages looking for water and can tear houses apart. Imagine having a 3000lb bull camel trying to climb through your kitchen window!!

At present we are trying to find a suitable area where we can either cull numbers of camels or trophy hunt for them or both. The skull of a bull camel makes a very interesting and unusual trophy – you will be sure to fool your friends with it! Hopefully we can get this new hunting area set up for the 2008 season, so if anyone is interested you are welcome to put your name on the growing list, so we can contact you when this plan comes to fruition. Big calibers will be the order of the day!



All the best to all of our friends... we'll look forward to hearing from you!

From The Team at Hunt Australia



www.HuntAust.com.au

"Legends of the South Pacific"